Ox & Bone is a craft beer bar and American BBQ style restaurant just outside the town center in Huddersfield. On the menu are burgers, steaks, hot dogs, ribs and wings - all prepared in-house and cooked over charcoal or in their smokers.
Unusual options on the Ox & Bone menu include The Widowmaker (a 24 inch hotdog in an equally large bun topped with onions, pulled pork, brisket, mustard, tomatoes, chipotle BBQ sauce and gerkins) - £29.95 for 2-4 people to share, free if one person can eat it within 45 minutes. Even more expensive is a rather special "Molecular Burger" at £50.00 made from Yorkshire Wagu beef which is cooked sous vide before being seared over charcoal and topped with Dijon mustard and tomato "caviar", confit onion, cheadar cheese foam, compressed tomatro and truffle oil dressed salad. The Molecular Burger does, of course, come in a gold flaked bun.
You can view the full Ox & Bone menu here: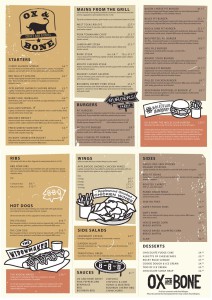 Ox and Bone opened on 26th March 2015.