Hi-Life Diners Club – 2 for 1 at thousands of restaurants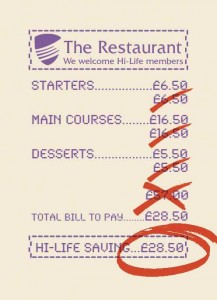 We've teamed up with the nice people at Hi-Life to offer visitors to thefoodplace.co.uk a FREE two month trial of their Diners Card. The card entitles you to 2 for 1 dining at some of the UK's top restaurants.


Hi-Life Diners Club membership features
Valid at thousands of restaurants from Michelin starred restaurants to high street chains.
Simple offer – 2 for 1 on food (the cheapest meal is free).
Average saving of £200 per year for people who dine out just once a month.
No hunting around for valid vouchers.
Access to exclusive gourmet evenings and events.
Established diners club, founded over 20 years ago.

Share offer on Facebook |

Share offer on Twitter
What people are saying about Hi-Life Diners Club:
"Hi-Life is a truly brilliant idea – members save a fortune and dine out more often."
Raymond Blanc
"Having only been with Hi -Life for just over a year, I can say that we have thoroughly enjoyed using the card. We have visited restaurants that we would never had visited and by using the card we have saved us a considerable amount of money. I have recommended the card to all my friends and I believe several of them have joined. Well done."
Mr. & Mrs. Spence
"Hi-Life offers some of the best cuisine in the world from the most diverse range of restaurants – enjoy the company of friends in life's simplest of pleasures."
Enzo Mauro, Stock Restaurant, Manchester