1 comment
Interview: Nathan Outlaw on Great British Menu, Twitter and hard work.
By dave at 18:59 on 29/05/2012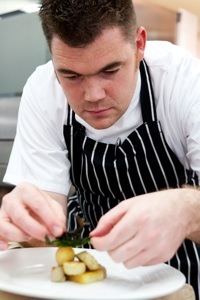 It is the final round of Great British Menu heats this week, and with three top chefs from the South West region taking part it promises to be a great week.
We spoke to Nathan Outlaw ahead of the the competition to find out how he got on with this year's brief, twitter and his restaurants.
How did you find the Great British Menu brief this year?
For me was all about the Olympic spirit – the spirit and determination to do well. What I did in the competition wasn't necessarily any different to what I do day in day out – I do what I do to the best of my ability, and I'm always looking to improve. Obviously the dishes were created for GBM, but I didn't change my style or anything. I think maybe that is where some of the chefs have gone wrong this year and gone a bit more for Olympic rings and torches and all that sort of stuff; it is nice but I don't really think that's what the show was aiming for. I thought the brief was quite a good challenge.
How was it competing with Paul and Simon?
Paul's restaurant  is literally across the water from mine, and Simon's is in the next county – so I know both of them very well. We also know what each others strengths and weaknesses are so that made it a bit more interesting. Simon and I have come across each other in other competitions in the past too – so we both know the other can cook!
I understand that when you went to start out in the industry, your Dad, a chef warned you off it – is that advice you would pass on today?
I'd tell people to give it a go for six months. but my biggest piece of advice would be if you are not enjoying it then definitely don't do it, because cooking is one of those jobs which at the top level will consume your life. You live it and you've got no personal life – I'm living proof of that, I have two children and a wife who barely see me, I spend more time with my chefs than I do with them. From some peoples point of view that's quite a sad thing, but it is the life they've always known and if my kids come to me and say "Dad, I want to be a chef" then I personally would say you need to give it a go before making that decision – it is not an easy one.
I've got a lot of young chefs in my kitchens, boys and girls of about 20 and we try encourage them but don't tiptoe around them either – because you don't want to portray the industry as being anything other what it is. We do endeavour to make things better and improve conditions. At the end of the day if you want to produce food and you want to have a restaurant at the top if its game, then there's only one way to do that and that is through hard work – there is no short cut, that is for sure.
Things are improving then?
I definitely don't think we can get away with the antics that some of the chefs that I worked under got away with, the way they treated people. I think a lot of the conditions weren't that great and a lot of us have taken that on-board and instead of replicating that way of running a kitchen we've made it a much nicer place to work. Most of the chefs I know at the higher end have boys and girls in their kitchens who have been with them for a long time, that tells you something. If you look back at the early days with chefs like Marco and Gordon Ramsay you would see chefs just leaving and walking out day in day out – nowadays there are very loyal crews in most kitchens which speaks volumes for the improvements in the industry.
You are quite active on Twitter – do you find it a useful tool?

Yeah, for us, so far twitter has been very useful. I try to keep it business like because at the end of the day everyone can see it. I try to put the sorts of things people who would come to the restaurant would like to see but wouldn't normally… So if there's some lovely fish that comes in, or one of the chefs has made a nice staff tea – just the little quirky things.
It works well with the book (British Seafood) having come out recently too – we've already had people on there saying they've tried the recipes.
It must be great to get that feedback, where as perhaps people might not have bothered to write or phone.
Yes, it's really nice to hear from people that perhaps wouldn't even come to the restaurant but have bought the book and had a go. Even little things like when I'm on Saturday Kitchen and people say "your omelette was nice today" or "I loved the look of the dish you made" that kind of thing – that person couldn't have got the message to you before.
It also seems to be a good community for chefs.
There are loads of us on there, I think in the past a lot of chefs wouldn't have shared their recipes or ideas – but what you are seeing now is chefs sharing and being very open – so from that aspect it's really good as well.
Tell us a bit about the restaurants – how do they differ?
The Seafood and Grill is four years old, and basically the idea for the restaurant came from the hotel where both the restaurants are – they wanted good food in a casual environment. The clientèle who come to this area of Cornwall are discerning and want quality – so what I set out to do was to start with lovely pieces of fish from the market, and meat from the local butchers and farmers. We give them lots of variety, so customers can choose their own sauces and dressings, the way they'd like it cooked and which side orders they'd like – so really they're making their own dishes. Because of where we are, we can confidently put tronçon of turbot, whole lobster, and things like that on the menu and people are happy to pay for them as they know they will be fed well, have good wine and be in a relaxing environment – it's very "Cornwall"!
Then there is the fine dining restaurant – that is where I cook, and if I'm not here it's not open. There are ten tables, a maximum of twenty covers and just myself, my head chef Chris and a couple of apprentices in the kitchen. We cook one daily changing, nine course fish menu. We basically get everything from four or five fishermen – one who just supplies crab and lobster, one that runs an oyster farm and a couple of day boaters. I just make the menu up from what they have and the produce we get from a few small growers. We do take into account any dietary requirements and stuff like that, but other than that we cook for you and people seem to love that "no choice" element to it. At the moment, we're booked up until October so it is going really well.
So there's one restaurant with lots of choice and one where you come in for me to cook for you – but both championing seafood more than anything else.
So finally, where else is good to eat?
In this area there is Number Six – Paul Ainsworth's restaurant which I think is very good and his other, Rojanos which is great for kids and Rick's Stein's establishments too. There are a couple of less known ones too – Fresh From The Sea in Port Isaac – owned by my crab and lobster fisherman. In there you're going to get half lobster and crab sandwiches and that's pretty much it, half a lobster and a glass of wine for £12.50 but they're really good. Also in Port Isaac is The Harbour Restaurant – simple fresh food. There's Chris Eden down at The Driftwood – he's a very, very good chef, and Porthminster Beach Cafe down in St. Ives. There's The Beach Hut and the Brasserie at the Watergate Bay Hotel which are both good and there's Fifteen there too. We're very lucky down here.
You may also like: