0 comments
Leeds Loves Food 2011
By steph at 10:30 on 2/07/2011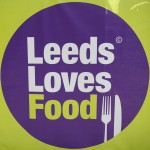 This weekend, Leeds city centre hosts it's sixth Leeds Loves Food festival celebrating food producers – and of course restaurants from Leeds and the surrounding areas.
This year's is the biggest so far with demonstrations, stalls and other events in the Corn Exchange, Kirkgate Markets, The Merrion Centre, Victoria Quarter and many others. Millennium Square is hosting the main "Yorkshire Food and Drink" event, with a marketplace with over 100 stalls featuring local producers and restaurants from around Leeds. The event is free to attend and is open from 11 – 6 each day.
A Taste of Spain is also visiting Leeds for the first time this year where they will be promoting Spanish music, tourism and even cooking an authentic paella by people from the region of Valencia for 1000 people on both Saturday and Sunday.


This year, there are over 20 restaurants with stalls at Millennium Square offering dishes from their menu. With prices generally around £5 it's a great way to try out a restaurant you haven't got around to visiting yet.

A number of restaurants and producers are also offering free samples of their food – such as this charcuterie board from Jamie's Italian:
There is also a kitchen theatre, where local chefs and suppliers will be showing off their cooking skills. On Friday, David Lishman of nearby butchers Lishmans in Ilkley brought his campaign to create a "Yorkshire Sausage" to sit alongside the likes of Cumberland and Lincolnshire sausages. He has created six recipes which which he thinks are good candidates, and is putting them to taste tests around Yorkshire. Visitors to Leeds Love Food are invited to sample them and cast their vote.

LeedsLovesFood is taking place from the 1st-3rd July across Leeds city centre and is free to attend. You can follow @LeedsLovesFood on Twitter for the latest news and updates.
You may also like: